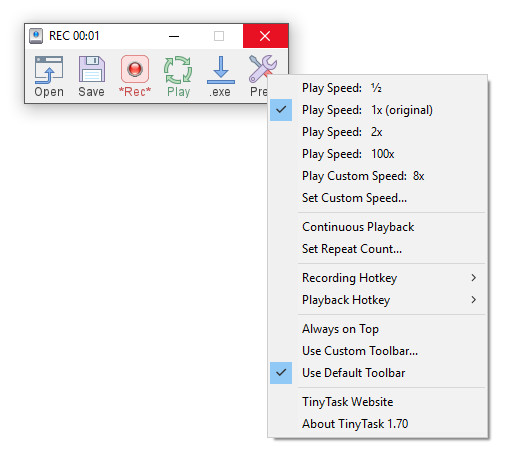 TinyTask – The #1 Auto Clicker
TinyTask is now #1 Auto Clicker among gamers. It functions by making a recording of you performing an action or series of actions on your computer and plays that recording back.
TinyTask is one of the best Autoclicker for Roblox & MineCraft. It's also helpful to perform daily tasks. It just record mouse click and repeat it when played !
What is TinyTask ?
Vista Software created it as a utility program. It is extremely useful and completely free. It provides quick and easy access for automating playback or recording. TinyTask can be used to make a fool of a friend, or even create a.exe.
It is a tool that that can automate repetitious acts without the need for program specific macros or learning to write computer scripts and code. It functions by making a recording of you performing an action or series of actions on your computer and plays that recording back.
Only instead of just a video recording, the computer actually performs the same actions again: the mouse, the keyboard, and your screen go through the same task you already performed. You can play the recording back once, indefinitely, or for limited number of times.
However, this is not about audio. What is it then? It is a keyboard and mouse macro recorder. It allows you to replay everything you do with the mouse and any words you type while the program's active. You can do this as many times you want. These files can be saved as.exe files.
It should be noted, however, that some mice may not record the movements of the mouse wheel. This is not a major issue as point-and-click can be used to do almost everything with the mouse wheel.
TinyTask's uniqueness is its small size. It takes up very little space and doesn't consume a lot of background resources. It performs a similar job to utility programs and is smaller than many of them. It's very popular in the US but has also been used in Sweden and Turkey. It's definitely worth checking it out!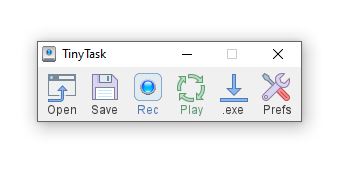 There are two ways to work with this program. Either click on the record button on the TinyTask window or use the Ctrl-Shift-Alt-R shortcut to record. The software records what you do on the PC.
This application will record any mouse movements, keyboard taps, and mouse clicks. Then, any time you want to repeat the action, you can click once to repeat the command. The software repeats whatever you have programmed it to do.
You can playback the recording at any time. Play it back once or multiple times. Recordings get saved in a small compressed file, taking up minimal space on your PC.
One important point to keep in mind when using this software, is that you need to remember the position of each window.
Experiment with this simple on-the-go software. Automate processes to save time and the general hassle of having to repeat the same commands. Even though this program is extraordinarily lightweight, it's still very efficient. Keep in mind, though, that the community behind this program is very limited. A small community, in this case, means that any bugs you encounter most likely will stay in the long run.
Download Tinytask 1.77
| | |
| --- | --- |
| File name | tinytask.exe |
| Version | 1.77 [Latest] |
| Size | 35 KB |
| Supported OS | Windows XP, Windows 7, Windows 10 |
| Developer | Vista Software |
| Last Update | MARCH 02, 2023 |
How to Install Tinytask on Windows PC?
Here is the full guide how you can use this Auto Clicker on Windows PC. All These functions of Tinytask are explained along with how you can install it!
Steps for Installing Tinytask on your Windows PC:
Download Tinytask. By Clicking on download button tinytask.exe File will be download.
Now go to the download folder or where the downloaded file is located at. Copy that file and paste on you desktop.
Since Tinytask it self is a portable file you can directly run it by just opening it!
You can now see the interface of the auto clicker and you can now play with it!
How to use Tinytask Auto Clicker?
This auto clicker have an easy to use UI and all the required functions. So if you already downloaded the Tinytask, now you will be able to use following features:
1. How To Start Recording In TinyTask?
Launch the tinytask on windows pc by double clicking the software. Once it is launched, you can see the toolbar with different options such as Open, Save, Rec, etc. Click on that "Rec" button to start Recording the mouse events that you do on your pc.

Alternatively, you can also press Control+Alt+Shift+R key combination to start the recording with a shortcut.
2. How To Stop Recording In TinyTask?
Starting and Stopping the recording is same and you don't have do anything different. Press the shortcut key Control+Alt+Shift+R to stop the recording if it is already recording. Otherwise, simply hit that "Rec" button to stop the recording.
3. How To Save The Recording On TinyTask?
It is even more easy to save the recording on your windows pc. If you are done with the recording, you need to hit "Save" button. You can find that button at the 2nd spot from the left.
That will open up a small window to name the recording. Enter some name and hit "Save" option to save the recording for later usage. On top of that, the recorded file will be saved in (.rec) format.
4. How To Open A TinyTask Project?
Your recorded file is your project. In order to open a project, launch the software on your pc as your first step. Click on that first option "Open". Once you do that, you can see a small window opens up with folders and navigation.
Select the file (.rec) and hit "Open" to load the recorded file. Now, you can run the task by clicking "Play" option.
5. How To Play A Macro Project On TinyTask App?
Let's say that you have recorded a mouse activity and ready for a playback. In such case, hit "Play" button from the toolbar to start the playback.
Once you do that, you can see that the tinytask software doing the same tasks that you did earlier. This way, you can play the games you like.
6. How To Set Playback Loops on TinyTask?
It is quite easy to set the playback loop. Open the tiny task on pc and go to "Preferences", the very last option on the toolbar. Hit the option "Set Playback Loops" to get the window where you can enter the number to create the recording loops.
Let's say for example that you have entered the number 4; it means that you will get the loop for 4 times consecutively.
7. How to stop a Runaway playback ?
TinyTask is supposed to watch for the key presses Break or ScrollLock or Pause, and immediately stop playback. It's possible that another app has captured the keyboard or otherwise interfered, but TinyTask is designed to emergency stop with those keys. (Note: the Escape key is not a good choice for emergency stops, since it's so commonly used for normal interactions during recordings.)
8. How To Set Custom Speed To The Macro?
In order to apply the custom speed to the macro that you have created, go to "Preferences" settings. Select "Set Custom Speed…" option and enter the speed from the scale of 1 to 100.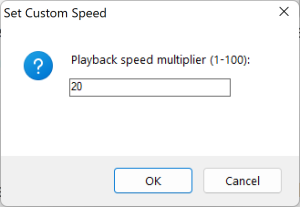 Let's say for example that you have entered 20. It means that you will get the playback in 20x speed. You can modify it later and set it to normal speed (1x) as well.
Features of TinyTasK
Light Software
TinyTask is very small in size and requires very little processing power. This enables the software to be used on almost all the devices with Windows operating system. It is so light on your processor that you can keep working on other projects while TinyTask is recording your actions in the background without affecting the performance of your computer whatsoever.
Record Actions
TinyTask allows you to record every button press of your keyboard and the mouse as well as the moment of the mouse itself. It allows you to truly record everything you are doing on your computer so that you can replicate it without having to be there performing repetitive tasks over and over again.
Low Response Time
TinyTask has a very low response time which means you will not see the apps lagging anywhere on your computer while using the software. This is made possible by the small size and high optimization of the software for Windows devices. The cursor will move in real-time and you will not notice any performance stop while using demanding tasks such as playing Triple-A games.
Clear UI
The user interface of TinyTask is very clean and user-friendly. All the buttons are clearly labeled and you can easily understand how to operate the program without even having to read any instructions for it. The UI has a very utilitarian feel with a basic UI that helps in keeping the size of the program small.
Regular Updates
TinyTask receives updates on a regular basis to keep it running without any issues. New features are rarely added because it already has all the basic features that you would need to record your macros and play them on your computer. Each version of TinyTask makes the software more stable by removing all the known errors that users of this software face on their devices.
Free App
TinyTask is completely free and open source to the public which means the source code is publicly available and you can download the software on your device absolutely free of charge. You can also make modifications to the source code if you want to add some features of your own to the program.
No Installation Required
TinyTask does not require you to install it in order to use it on your computer. Simply download the executable file on your PC and run it. You will be able to use every feature of TinyTask without even having to go through the hassle of installing it on your hard drive. This feature also gives you the freedom of storing the program anywhere on your PC.
Countdown Timer
TinyTask has a built-in countdown timer to let its users know the remaining time for the macro to complete playback. It is very convenient for users and a must-have for every automation tool.
Adjustable Playback Speeds
TinyTask has variable playback speeds of the recorded macros so that you can increase or decrease the intensity of the playback. Make sure you are not increasing the intensity too much so that your computer fails to register the keypresses and cursor clicks.
TinyTask Portable
TinyTask portable version is same as default .exe version so you just have to open it and your ready to go! With portable version you will able to carry this tiny tool on any flash drive! Click on below download button to get TinyTask portable:
TinyTask Changelogs
It's not uncommon for the latest version of an app to cause problems when installed on older devices. Sometimes newer versions of apps may not work with your device due to system incompatibilities. Until the app developer has fixed the problem, try using an older version of the app. If you need a rollback of TinyTask, check out the app's version history on Uptodown. It includes all the file versions available to download off Uptodown for that app. Download rollbacks of TinyTask for Windows.
December 16, 2019
TinyTask 1.77
☑ Removed 500 bytes in further attempts to convince scanners that TinyTask is not malware
☑ False positive rate dropped from 19 to 4, which is probably the best achievable result for now
☑ Fixed potential memory bug (never reported, low probability edge case) during long recordings
DOWNLOAD
December 16, 2019
October 10, 2019
TinyTask 1.75
☑ Fixed redraw bug that caused background lines to appear on toolbar in rare circumstances
☑ Adjustments to binary output in an attempt to prevent false positives by scanners
☑ Build rule changes for streamlined multi-language deployment
☑ Updates to toolchain for future development

DOWNLOAD
October 10, 2019
April 18, 2019
TinyTask 1.74
☑ Added international versions: French, German, Italian, Portuguese, Spanish, Swedish
☑ Fixed bug with Compiled EXE process not terminating correctly if interactively stopped
☑ Many modifications to text and caption formatting
☑ Additional information displayed in Compile EXE output report
☑ Added hints in playback key menu about how to emergency stop playbacks
☑ Migrated to new web server with 4x the hardware specs to handle increasing traffic loads
April 18, 2019
January 15, 2019
TinyTask 1.70
☑ New Feature: User-configurable toolbar graphics
☑ Custom toolbar allows user control over app elements on varying screen resolutions
☑ Upsized default (internal) toolbar from 16×16 to 38×44 pixels; added captions
☑ Added previous toolbar versions for download, also included with setup file
☑ Fixed mouse cursor flashing while hovering over toolbar icons
☑ Fixed problem with TinyTask repositioning on multiple monitors
☑ Modified menu access keys to be more logical (e.g., "Play Custom Speed")
☑ Removed option to disable .INI settings (still 100% portable)
☑ App now shows system Minimize button if there is sufficient room in title bar
☑ Improved error handling and recovery for invalid recordings
☑ Rewritten low-level file management
☑ Updates and optimizations in Compile EXE feature, improved binary header conformity
☑ Removed overly simplistic Help text (future versions/website may add expanded help)
☑ Enhancements to installer "TinyTask_setup.exe"; now designated as preferred download
☑ Corrected system icon display in Windows > Control Panel > Programs and Features

DOWNLOAD
January 15, 2019
January 1, 2019
TinyTask 1.50

☑ Added "Compile EXE" feature
☑ Added Repeat Playback
☑ User preferences stored in portable .ini file
☑ Tiny caption bar (no alt-tab functionality)
☑ Included tooltips when hovering with mouse
☑ Tested by over 100,000 users for stability
January 1, 2019
Why TinyTask is the best Auto Clicker for Roblox?
Undoubtedly there are lots of Auto clickers are available in the market either free or paid but no one can beat TinyTask. TinyTask is the best auto clickers for roblox.
Roblox allows you to play multiplayer online. It is an easy-to-use platform for game creation. It allows users to create games and share their creations with other users.
It's a great platform for user-generated games and a virtual world that covers countless genres. The massively multiplayer online is a great introduction. It allows players to easily create, buy, and sell virtual goods.
Tinytask Roblox automatic clicker is a great tool for automatic clicking. You can trigger it whenever you need to generate inputs.
You can also use it to stimulate mouse clicking depending on your preference. Auto clicker features the setting and reset feature that allows users to set the maximum click limit or allow for infinite clicks.
The auto-clicker can also be used to respond to conditional reactions.
This is the best tool I have ever seen for games like Pet Simulator X.