Tinytask Download
TinyTask is now #1 Auto Clicker among gamer. Especially for those who plays Roblox. Tinytask is the Best Roblox Auto Clicker according to some YouTubers. It functions by making a recording of you performing an action or series of actions on your computer and plays that recording back.
It is a tool that that can automate repetitious acts without the need for program specific macros or learning to write computer scripts and code. It functions by making a recording of you performing an action or series of actions on your computer and plays that recording back.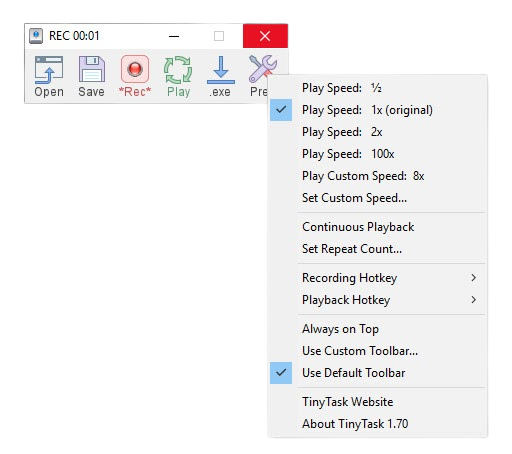 Technical Detail
| | |
| --- | --- |
| File name | tinytask.exe |
| Version | 1.77 |
| Supported OS | Windows |
| Last Update | Sept 12, 2023 |
What is Tinytask?
Vista Software created it as a utility program. It is extremely useful and completely free. It provides quick and easy access for automating playback or recording. TinyTask can be used to make a fool of a friend, or even create a.exe.
Only instead of just a video recording, the computer actually performs the same actions again: the mouse, the keyboard, and your screen go through the same task you already performed. You can play the recording back once, indefinitely, or for limited number of times.
However, this is not about audio. What is it then? It is a keyboard and mouse macro recorder. It allows you to replay everything you do with the mouse and any words you type while the program's active. You can do this as many times you want. These files can be saved as .exe files.
It should be noted, however, that some mice may not record the movements of the mouse wheel. This is not a major issue as point-and-click can be used to do almost everything with the mouse wheel.
TinyTask's uniqueness is its small size. It takes up very little space and doesn't consume a lot of background resources. It performs a similar job to utility programs and is smaller than many of them. It's very popular in the US but has also been used in Sweden and Turkey. It's definitely worth checking it out!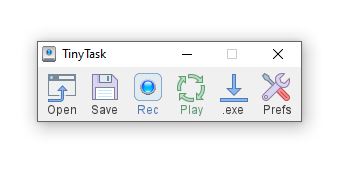 There are two ways to work with this program. Either click on the record button on the TinyTask window or use the Ctrl-Shift-Alt-R shortcut to record. The software records what you do on the PC.
This application will record any mouse movements, keyboard taps, and mouse clicks. Then, any time you want to repeat the action, you can click once to repeat the command. The software repeats whatever you have programmed it to do.
You can playback the recording at any time. Play it back once or multiple times. Recordings get saved in a small compressed file, taking up minimal space on your PC.
One important point to keep in mind when using this software, is that you need to remember the position of each window.
Experiment with this simple on-the-go software. Automate processes to save time and the general hassle of having to repeat the same commands. Even though this program is extraordinarily lightweight, it's still very efficient. Keep in mind, though, that the community behind this program is very limited. A small community, in this case, means that any bugs you encounter most likely will stay in the long run.
Features
Light Software
TinyTask is very small in size and requires very little processing power. This enables the software to be used on almost all the devices with Windows operating system. It is so light on your processor that you can keep working on other projects while TinyTask is recording your actions in the background without affecting the performance of your computer whatsoever.
Record Actions
TinyTask allows you to record every button press of your keyboard and the mouse as well as the moment of the mouse itself. It allows you to truly record everything you are doing on your computer so that you can replicate it without having to be there performing repetitive tasks over and over again.
Low Response Time
TinyTask has a very low response time which means you will not see the apps lagging anywhere on your computer while using the software. This is made possible by the small size and high optimization of the software for Windows devices. The cursor will move in real-time and you will not notice any performance stop while using demanding tasks such as playing Triple-A games.
Clear UI
The user interface of TinyTask is very clean and user-friendly. All the buttons are clearly labeled and you can easily understand how to operate the program without even having to read any instructions for it. The UI has a very utilitarian feel with a basic UI that helps in keeping the size of the program small.
Regular Updates
TinyTask receives updates on a regular basis to keep it running without any issues. New features are rarely added because it already has all the basic features that you would need to record your macros and play them on your computer. Each version of TinyTask makes the software more stable by removing all the known errors that users of this software face on their devices.
Free App
TinyTask is completely free and open source to the public which means the source code is publicly available and you can download the software on your device absolutely free of charge. You can also make modifications to the source code if you want to add some features of your own to the program.
No Installation Required
TinyTask does not require you to install it in order to use it on your computer. Simply download the executable file on your PC and run it. You will be able to use every feature of TinyTask without even having to go through the hassle of installing it on your hard drive. This feature also gives you the freedom of storing the program anywhere on your PC.
Countdown Timer
TinyTask has a built-in countdown timer to let its users know the remaining time for the macro to complete playback. It is very convenient for users and a must-have for every automation tool.
Adjustable Playback Speeds
TinyTask has variable playback speeds of the recorded macros so that you can increase or decrease the intensity of the playback. Make sure you are not increasing the intensity too much so that your computer fails to register the keypresses and cursor clicks.
How to Install Tinytask ?
Download Tinytask. By Clicking on download button tinytask.exe File will be download.
Now go to the download folder or where the downloaded file is located at. Copy that file and paste on you desktop.
Since Tinytask it self is a portable file you can directly run it by just opening it!
You can now see the interface of the auto clicker and you can now play with it!
How to use Tinytask ?
This auto clicker have an easy to use UI and all the required functions. So if you already downloaded the Tinytask, now you will be able to use following features:
1. How To Start Recording In TinyTask?
Launch the tinytask on windows pc by double clicking the software. Once it is launched, you can see the toolbar with different options such as Open, Save, Rec, etc. Click on that "Rec" button to start Recording the mouse events that you do on your pc.

Alternatively, you can also press Control+Alt+Shift+R key combination to start the recording with a shortcut.
2. How To Stop Recording In TinyTask?
Starting and Stopping the recording is same and you don't have do anything different. Press the shortcut key Control+Alt+Shift+R to stop the recording if it is already recording. Otherwise, simply hit that "Rec" button to stop the recording.
3. How To Save The Recording On TinyTask?
It is even more easy to save the recording on your windows pc. If you are done with the recording, you need to hit "Save" button. You can find that button at the 2nd spot from the left.
That will open up a small window to name the recording. Enter some name and hit "Save" option to save the recording for later usage. On top of that, the recorded file will be saved in (.rec) format.
4. How To Open A TinyTask Project?
Your recorded file is your project. In order to open a project, launch the software on your pc as your first step. Click on that first option "Open". Once you do that, you can see a small window opens up with folders and navigation.
Select the file (.rec) and hit "Open" to load the recorded file. Now, you can run the task by clicking "Play" option.
5. How to play a Macro Project on TinyTask ?
Let's say that you have recorded a mouse activity and ready for a playback. In such case, hit "Play" button from the toolbar to start the playback.
Once you do that, you can see that the tinytask software doing the same tasks that you did earlier. This way, you can play the games you like.
6. How to Set Playback Loops on TinyTask?
It is quite easy to set the playback loop. Open the tiny task on pc and go to "Preferences", the very last option on the toolbar. Hit the option "Set Playback Loops" to get the window where you can enter the number to create the recording loops.
Let's say for example that you have entered the number 4; it means that you will get the loop for 4 times consecutively.
7. How to stop a Runaway playback ?
TinyTask is supposed to watch for the key presses Break or ScrollLock or Pause, and immediately stop playback. It's possible that another app has captured the keyboard or otherwise interfered, but TinyTask is designed to emergency stop with those keys. (Note: the Escape key is not a good choice for emergency stops, since it's so commonly used for normal interactions during recordings.)
8. How to Set Custom Speed to the Macro?
In order to apply the custom speed to the macro that you have created, go to "Preferences" settings. Select "Set Custom Speed…" option and enter the speed from the scale of 1 to 100.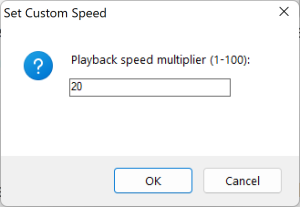 Let's say for example that you have entered 20. It means that you will get the playback in 20x speed. You can modify it later and set it to normal speed (1x) as well.
Tinytask Roblox
You can download Tinytask for Roblox. This Roblox Auto Clicker has been so famous among the Roblox player that most player prefer to use Tinytask as it doesn't ban and seems safe to use in most of the cases.
Roblox is a popular online gaming platform where players can create and play games created by other users. In some games on Roblox, players may need to perform repetitive actions, such as clicking rapidly or continuously on certain objects or buttons. To make these tasks easier and more convenient, some players use automation tools like TinyTask, which is an auto clicker program.
TinyTask is a software program that allows users to record and replay mouse and keyboard actions. With an auto clicker like TinyTask, players can record a sequence of mouse clicks and keystrokes and then play it back repeatedly. This means that instead of manually clicking or pressing keys over and over again, the auto clicker will perform those actions automatically.
By using TinyTask or similar auto clicker programs, Roblox players can automate repetitive tasks in the games they play. This can be particularly useful in games that involve grinding or repetitive actions to earn in-game currency, level up, or complete certain objectives. For example, if a game requires players to click on a specific area repeatedly to collect resources or perform an action, an auto clicker can save time and effort by automating those clicks.
Using an auto clicker can provide players with several benefits. It can speed up gameplay by automating repetitive actions, allowing players to progress faster in the game. It can also reduce the physical strain on the player's hand, as they don't have to continuously click or press keys manually. Additionally, an auto clicker can be used for AFK (Away From Keyboard) purposes, where players can set up the automation and let the game run while they're not actively playing.
Tinytask Mac
To be honest, Tinytask developer did't created Mac version of Tinytask. It was originally built for Windows PC. However we won't disappoint you as we have tested and shortlisted some of the Tinytask alternative for mac that have similar functionality. We have even explain each individual Tinytask alternative for mac reviews to make simplify things.
| Tinytask Alternative for Mac | Description | Review & Download |
| --- | --- | --- |
| Automator | With Automator, you can accomplish time-consuming, repetitive manual tasks quickly, efficiently, and effortlessly. Automator lets you skip the complex programming and scripting that is normally required to create automations. | Download |
| Sikuli | Sikuli is a visual technology to search and automate graphical user interfaces (GUI) using images (screenshots). The first release of Sikuli contains Sikuli Script, a visual scripting API for Jython, and Sikuli IDE, an integrated development environment for writing visual. | Download |
| Quicksilver | Quicksilver is a fast and free Mac OS X productivity application that gives you the power to control your Mac quickly and elegantly. Quicksilver learns your habits, making your everyday chores simple and efficient. | Download |
| Repeat | Repeat is a full-fledged, Java mouse/keyboard record/replay and automation hotkeys/macros creation using modern programming languages, and more advanced automation features. Working across three major OSes: Windows, OSX, and Linux. | Download |
| Cliclick | "Cliclick" is short for "Command-Line Interface Click". It is a a tiny shell/Terminal application that will emulate mouse clicks or series of mouse clicks (including double clicks and control clicks) at arbitrary screen coordinates. | Download |
| Advanced Auto Clicker for Mac | Allow for selecting a higher rate of clicking (up to 10000 per second). You can use Hot Keys to record and play the mouse click activities which make it ease to use. | Download |
Tinytask Android Mobile
Tinytask developer has only created Tinytask for Windows PC users. Since it was build in C Language Developer did't release android / mobile version of Tinytask. But yes, Market have Alternatives available that has similar functionalities like Tinytask. We have curated a list of Tinytask Alternative for Android Mobile. We have installed, Used and tested all these applications to check their functionalities and responsiveness to match it with Tinytask. So download any of the Auto Clicker of your choice and do inform us how does it works!
Tinytask Alternative for Android Mobile
Description
Review & Download
Automatic tap
Auto Clicker helps you do repeated taps at any location with any interval you specify. Auto Clicker does NOT require root access. Have a floating control panel to start/stop the automatic tap. It is great for click games.
Download
Auto Tapper
Any app, any interval, any location, once you specify, Auto Tapper can do repeated clicks or swipes WITHOUT ROOT access! Our floating panel controls or adjusts scripts fast. It also assists in your reading and browsing short videos, so you can use the time to do other things and save your time!
Download
Auto Clicker Lite
Auto Clicker Lite is faster and easier than ever with the Auto Clicker Lite! The Auto Clicker Lite app is small, allowing you to save space on your phone. But it still has many features, such as Auto Clicker, support single click, multiple click, and multiple swipes. Specific features include:
– Easy to use with material design, best interface
– Save your configs to use next time
– Support three ways to stop automatic tap: Run to infinity, limit time and number of cycles
Download
GS Auto Clicker
GS Auto Clicker is a useful tool to automatically touch screen instead of hand. If you touch screen frequently when you are playing game or working, this app can release your finger and save your time.
Download
Touch Macro Pro
Touch Macro Pro allows for programming routine tasks, which can then be carried out automatically. It is a flexible piece of software that may perform tasks such as group repetition, comparing photos, and discovering particular data. It can perform complex operations, rapid clicking, and locate and select images displayed on the screen.
Download
Tinytask Chromebook
If you are looking for Auto Clicker for Chromebook then you will easily find here. Tinytask doesn't works in Chromebook but we have some chrome extension that almost have similar functionalities and application.
CTG Plugins
A collection of simple plugins to improve your web browsing experience.
A collection of simple website plugins for a wide variety of purposes, all in one place. Each plugin does exactly what it says and nothing more. Simplicity is key.
FAQs